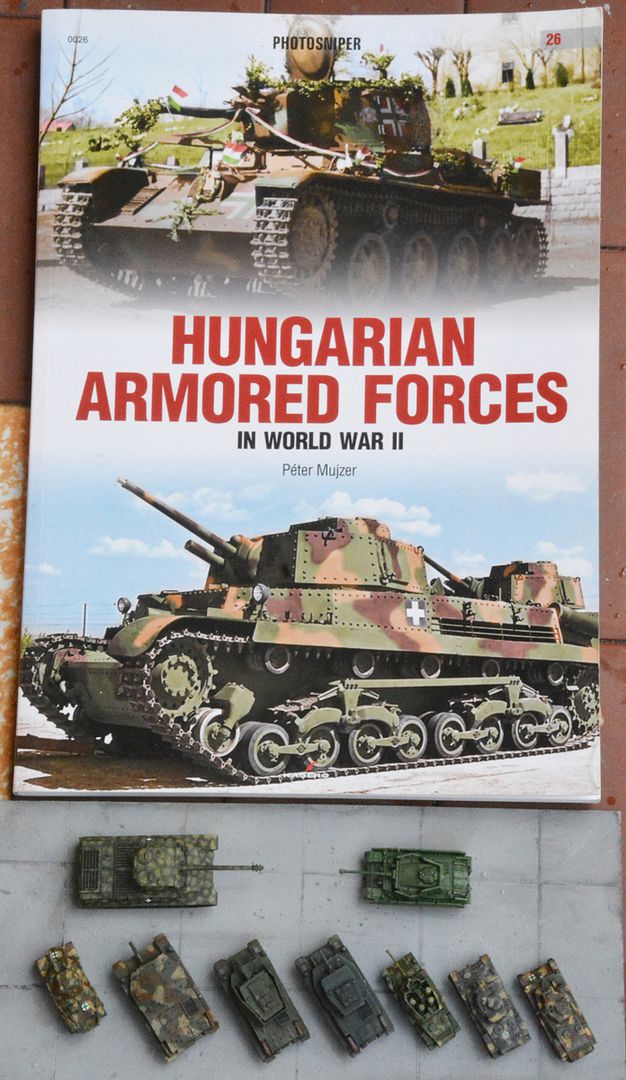 Still waiting to complete my 2 collections (

Italian WWII AFVs and vehicles

and

Tanks and Vehicles of the Great War

), here is something already done: a small lineup of Hungarian WWII AFVs.


When Hungary joined Barbarossa the composition of her armored units was a mix of Italian L-35 tankettes, Swedish Light tanks (licence-produced in Hungary and named Toldy), and a locally designed armored car called Szaba.

Tankettes proved useless for first line duties, and both versions of the Toldi (the first one armed with a 20mm or a 37mm gun and the Toldi II, better armored and armed with a 40mm gun) were only able to fight Soviet lighter types like T-26 ot BT tanks. The 1942 campaigns saw the introduction of a fine SPAA based on Toldi chassis and called Nimrod plusa heavier type based on a Czech design, called Turan.
Both Turan and Nimrod were armed with a 40mm high velocity gun, unable to deal with Soviet T-34. Several German types were also received, never in large numbers (less than one hundred tanks including Pz.38Ts, Pz.IIIs and Pz. IVs 'short'). The Hungarian units on the Russian Front were almost annnihilated in the winter 1942/43 Soviet offensives, just as the Romanian and Italians armies. Meanwhile, a heavier tank type had been adopted (an uparmored Turan armed with a medium velocity 75mm gun, still unable to penetrate frontally a T-34). An assault gun (Zrinyi) was produced using the Turan chassis and, armed with a 105mm gun, proved to be a much better fighting machine. Total Turan ptoduction (including Zrinyi) was well below 500 units. After Kursk, with the Soviets on the offensive, a new effort was made by the Germans to provide Hungarian tankers with Pz.IVs, Marders and even a dozen of Tigers and a few Panthers. French tanks had also been received and used in anti-partisan duties: Renaults, SOMUAs, Hotchiss.
When the Red army proved unstoppable, Hungarians were going to ask for a separate peace ihoping to exit the war, just as Italians and Rumanians had just done, but this time the Germans were able to prevent their move and install a new puppet government: Hungarians fought against the Red army to the very end of the war and Budapest fell after a bitter and desperate battle by surrounded Hungarians, Wehrmacht and SS units; the last Zrinyis fought there.

Hungarian AFVs were camouflaged with brown and light tan splotches on a dark green base or were entirely dark green; national insigna were octagonal with a white-contoured green cross on a red base. Later in the war this was changed in a white cross on a black square.

And now, the models: you won't see German types here, mostly because these appear to have been used in German color and markings.
38M Toldi (20mm gun)
This is from Shapeways. A fine little model, just painting and decals are needed.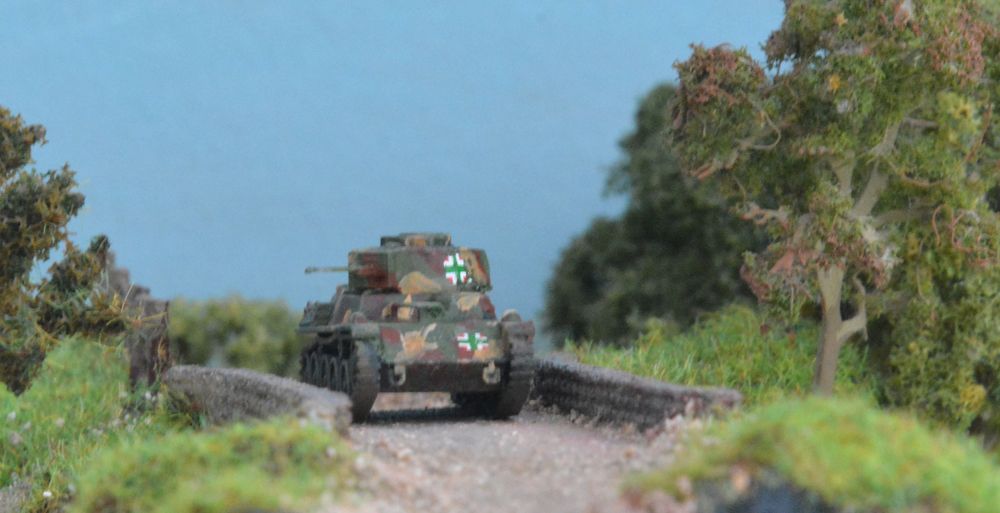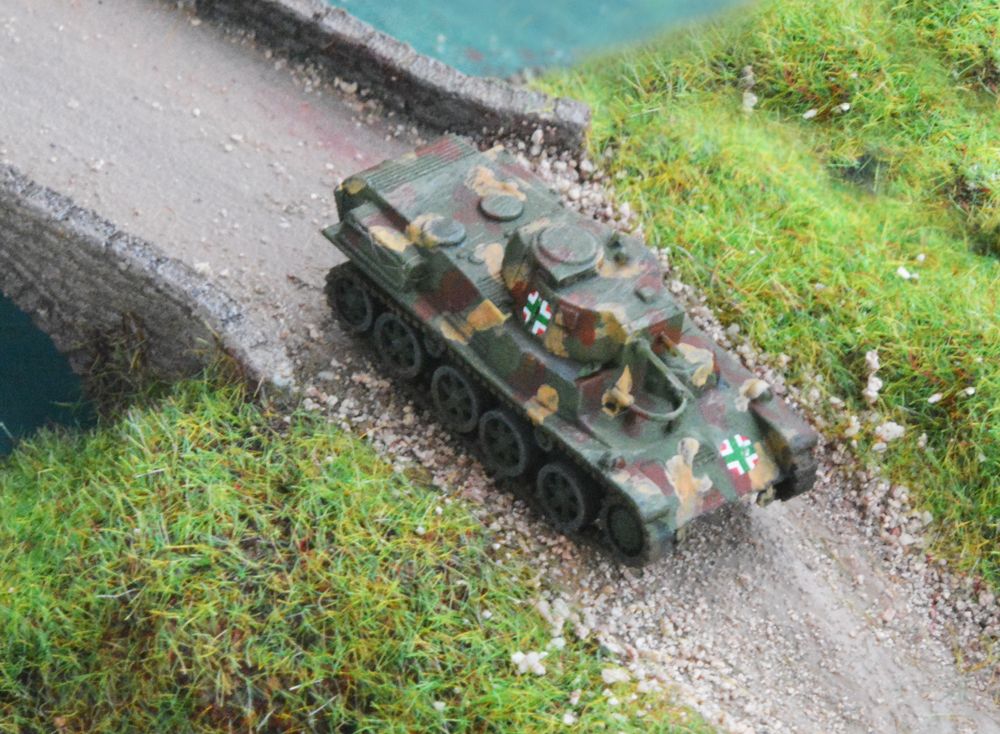 38M Toldi II. (40mm gun)
This is from Fairy Kikaku: usual 'broken' tracks, heavy riveting, ugly and oversized gun. There's a Shapeways model, now (suggested choice: besides, Fairy Kikaku models are hard to get!)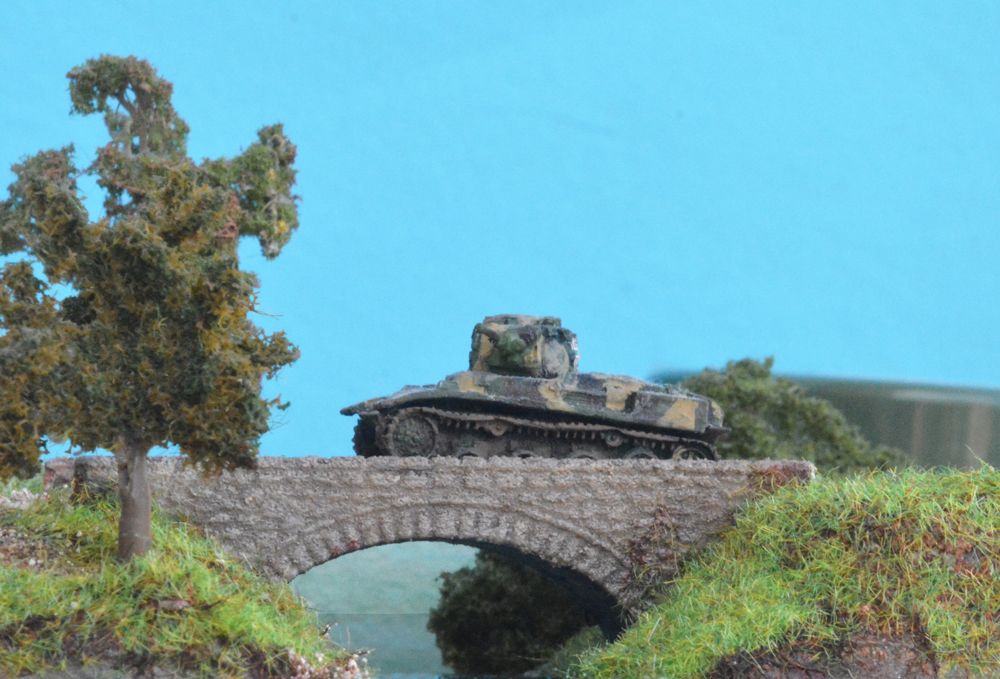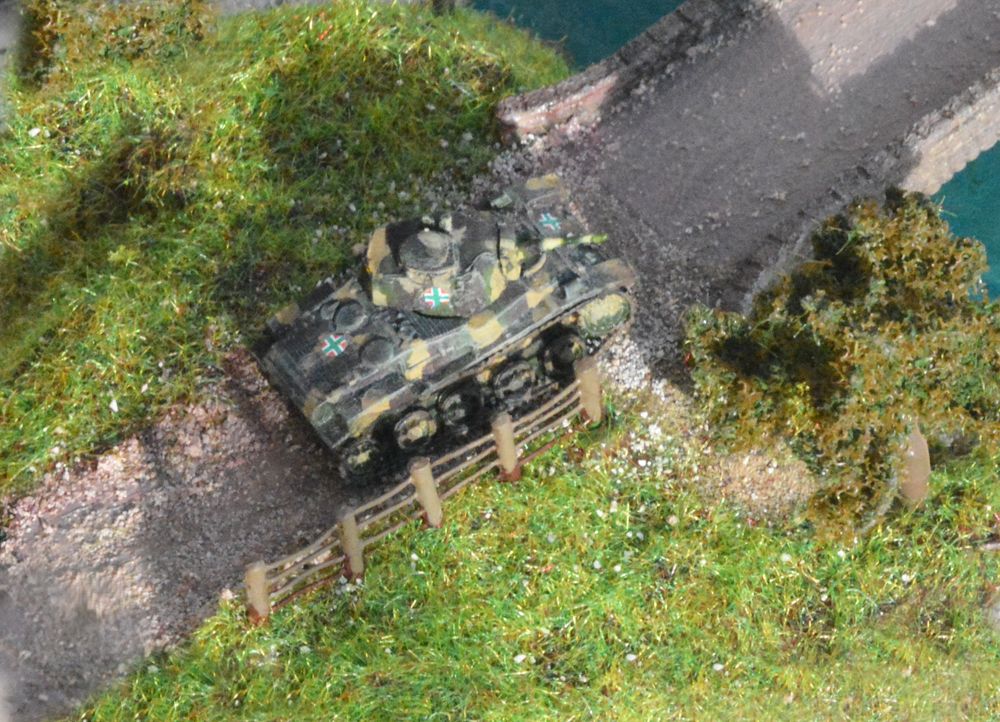 39M Czaba[/b]
This is from Panzer Depot but there is a Shapeways one too (identical). Oversized 20mm gun and terrible rail aerial.
A bit of work needed but this was a fine-looking armored car.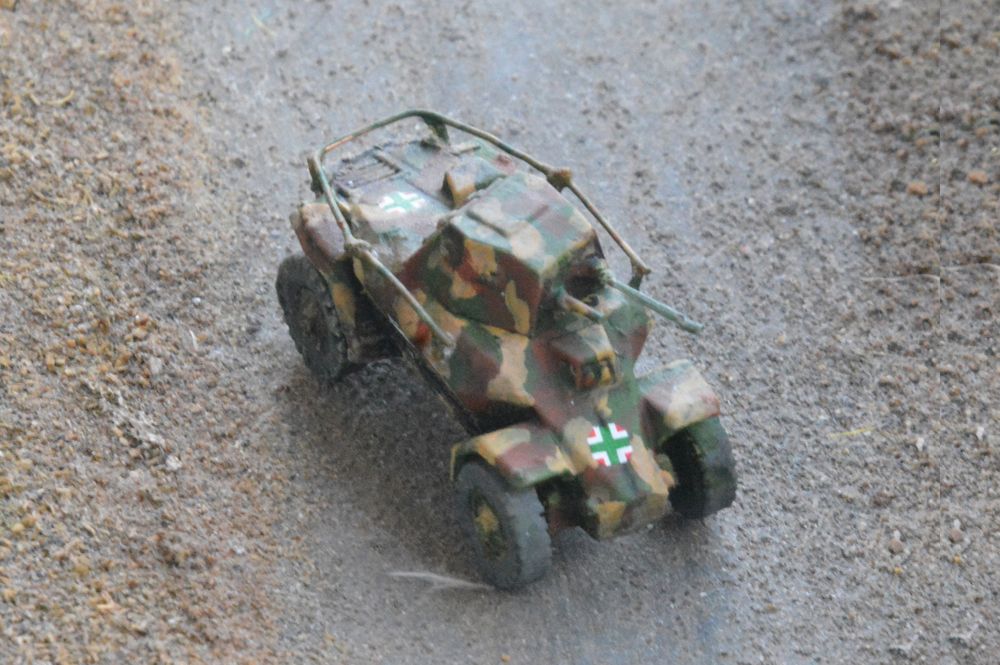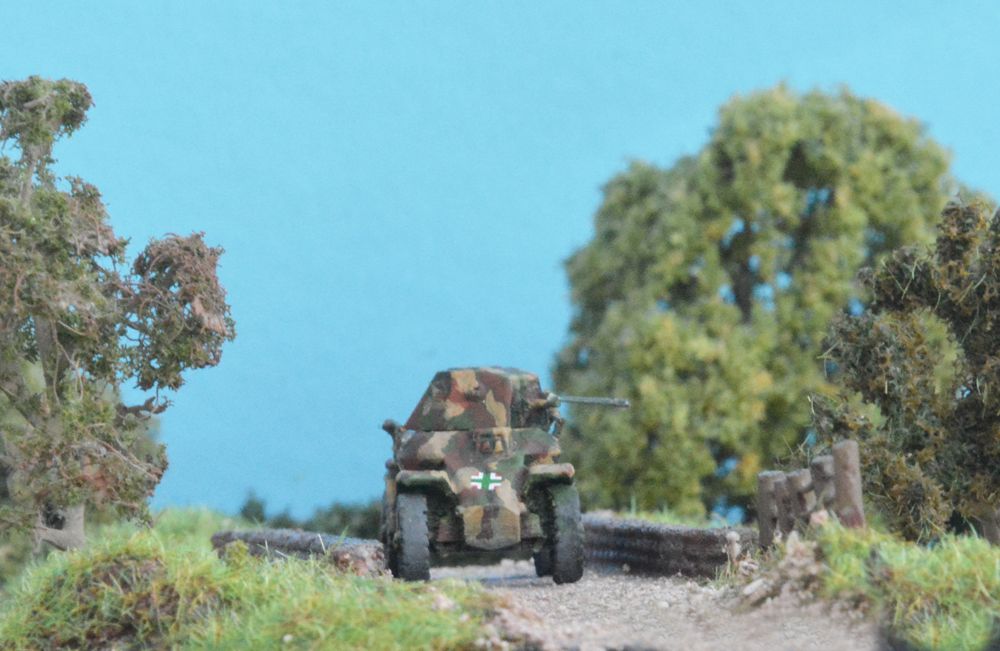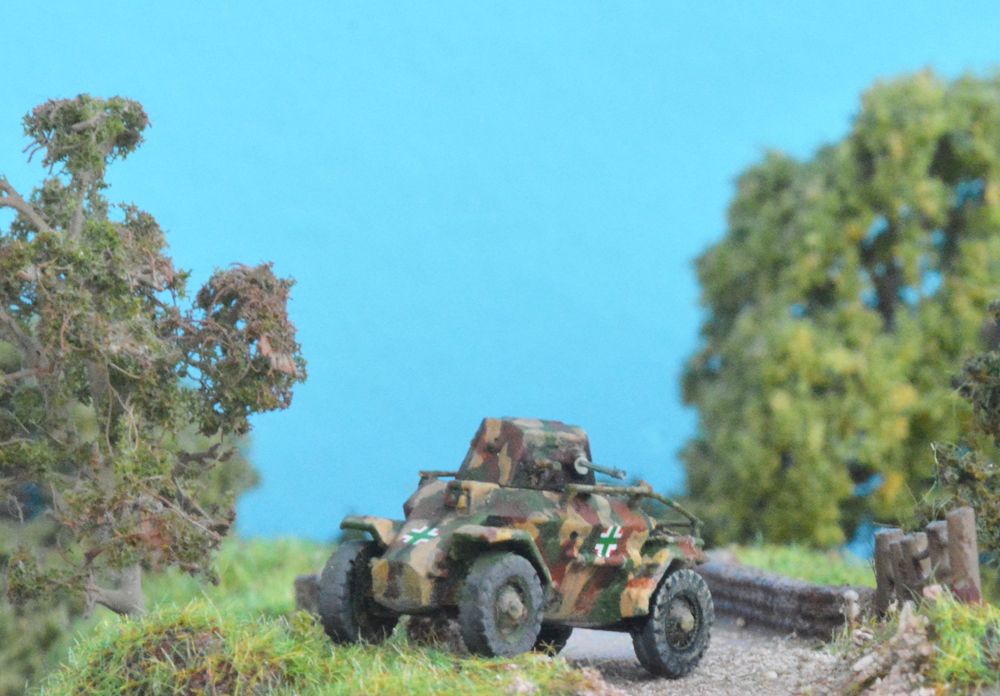 As received from Panzer Depot
40 Nimrod
:
Shapeways only (at least until Panzer Depot copies it!). The 40mm gun is too thick. I've shaven off excess resin with a cutter.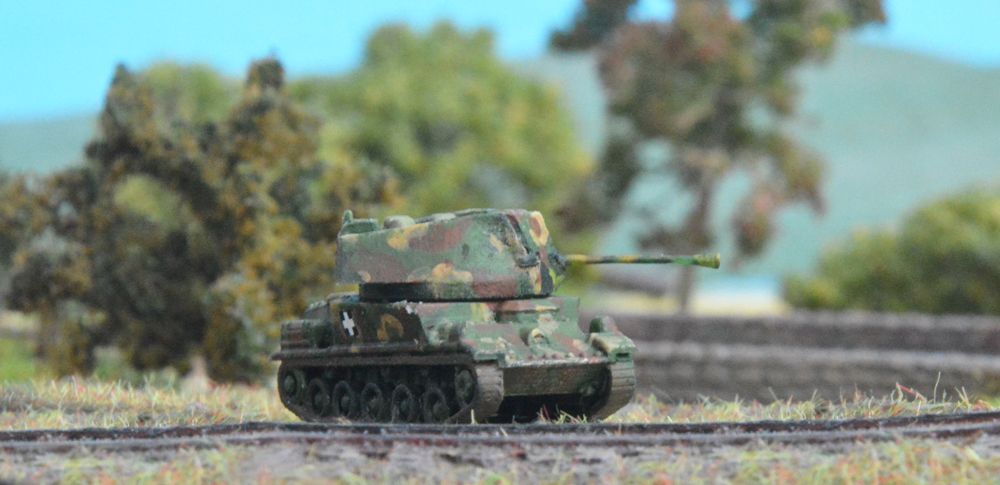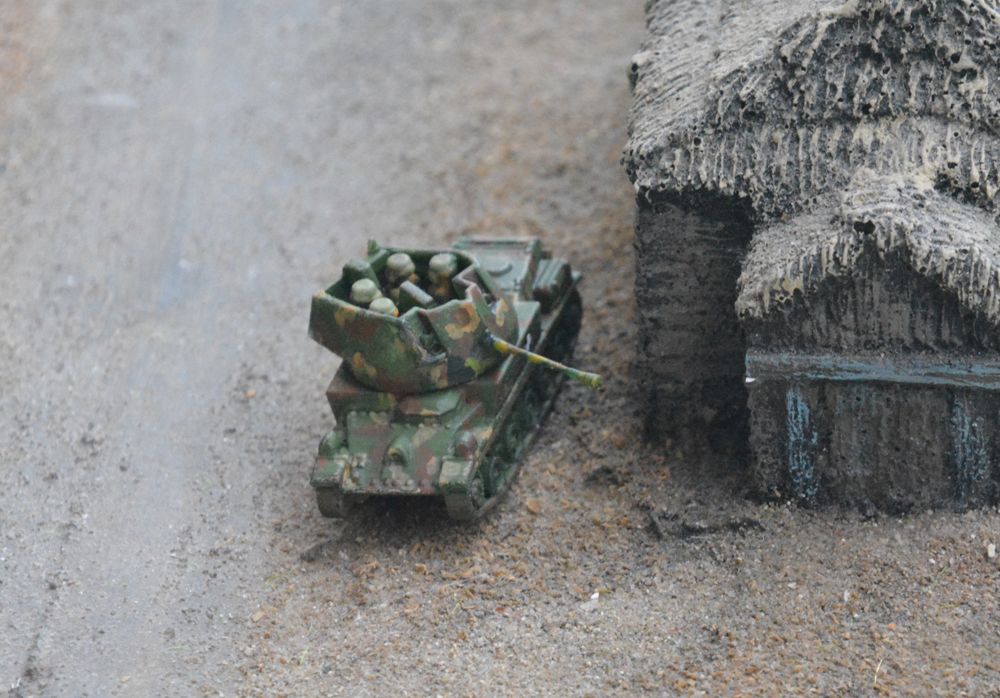 4om Turan (40mm gun)
:
Shapeways.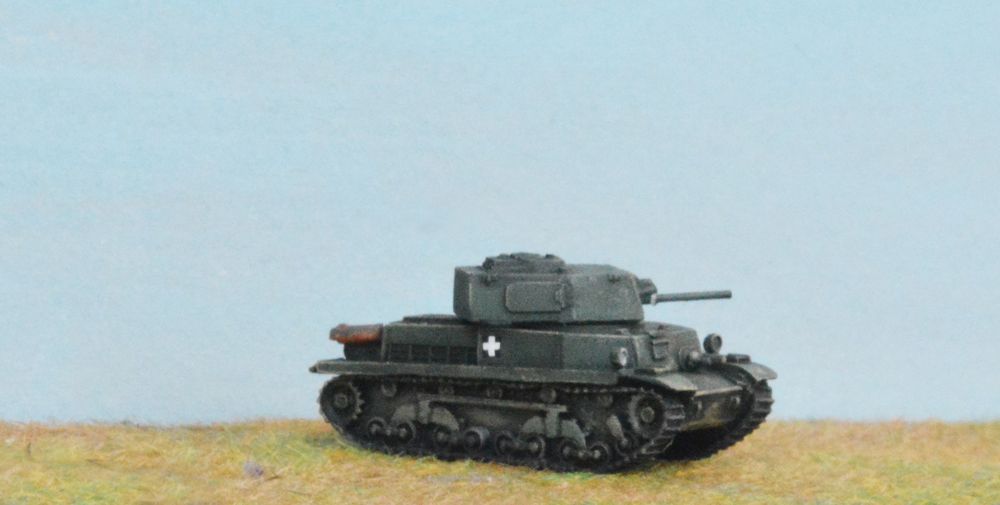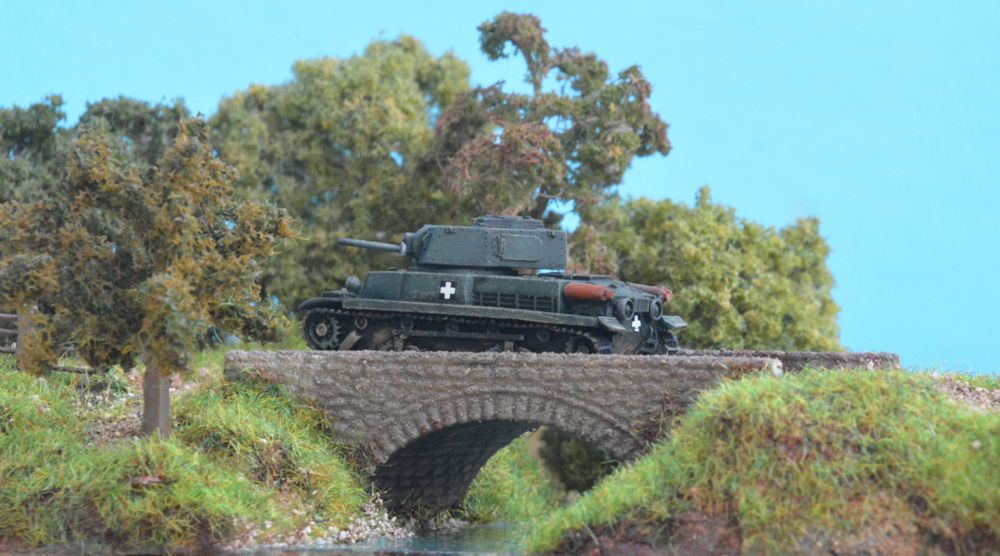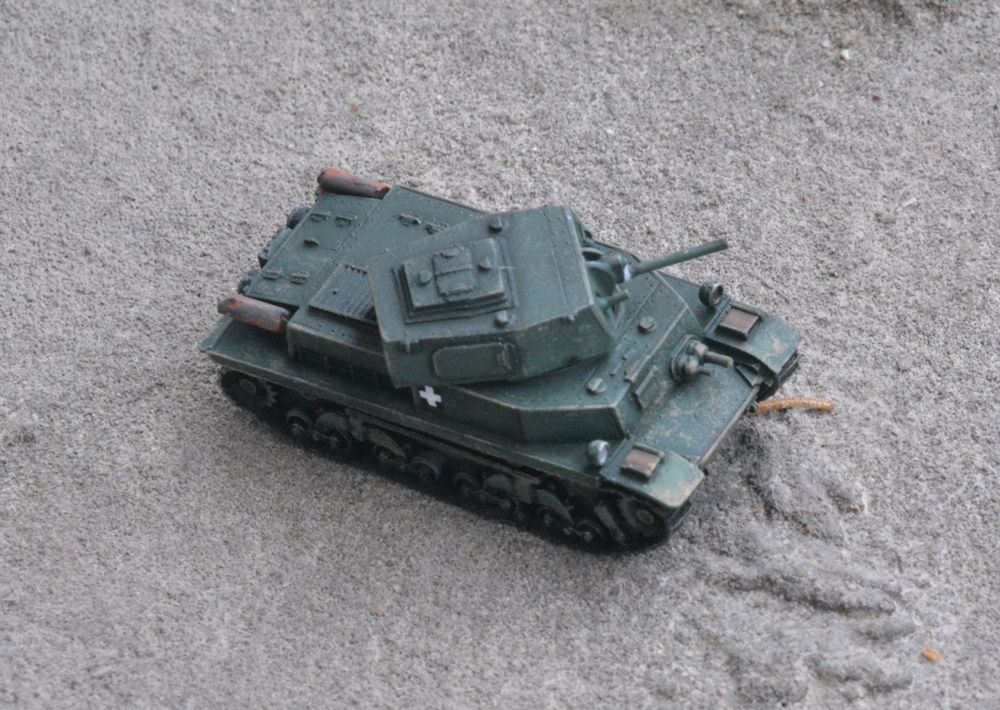 41M Turan II (75mm gun)
:
I've got this from an E-Bay seller. Now there is also a Shapeways model (and a Panzer depot copy) without turret shuertzen.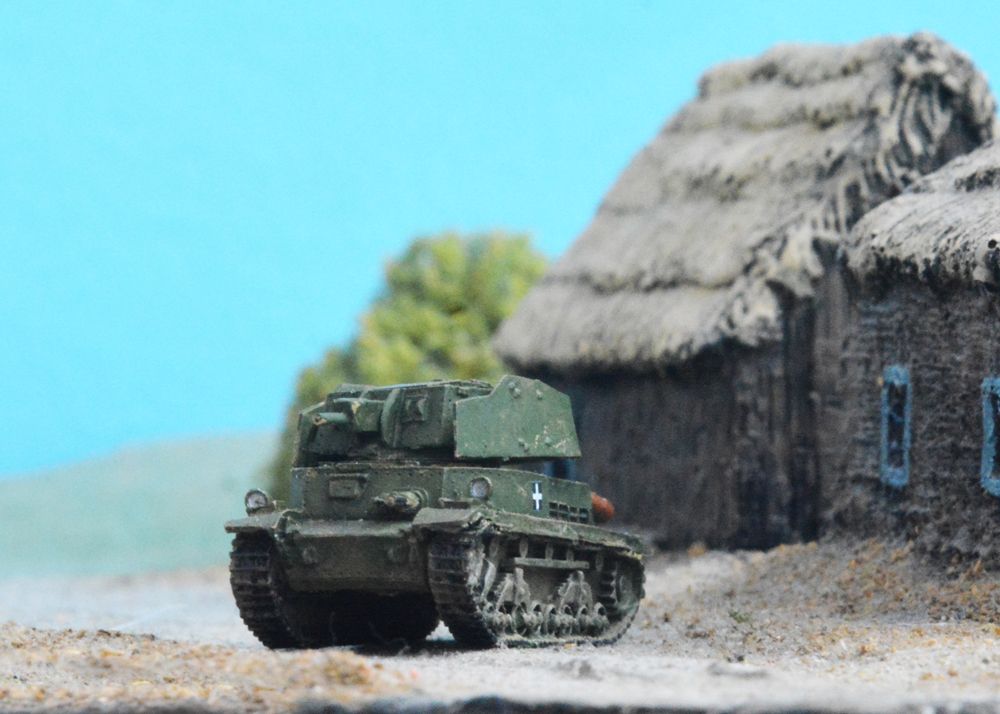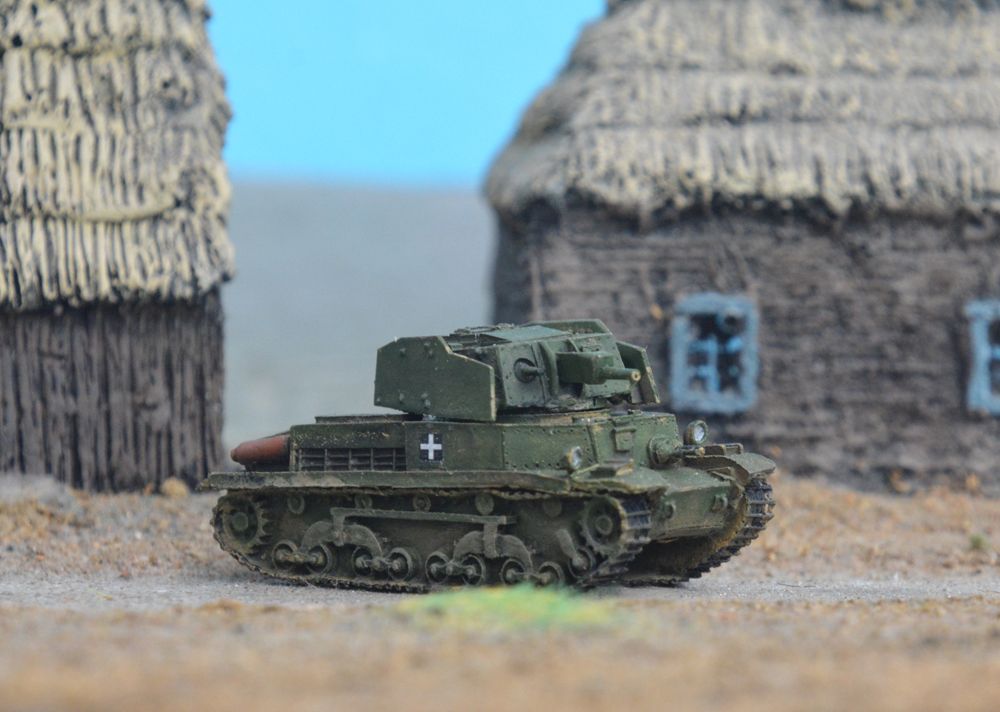 40/43 Zrinyi
:
same e-bay seller, but now it is available from Shapeways, where you can also get it with Shuertzen.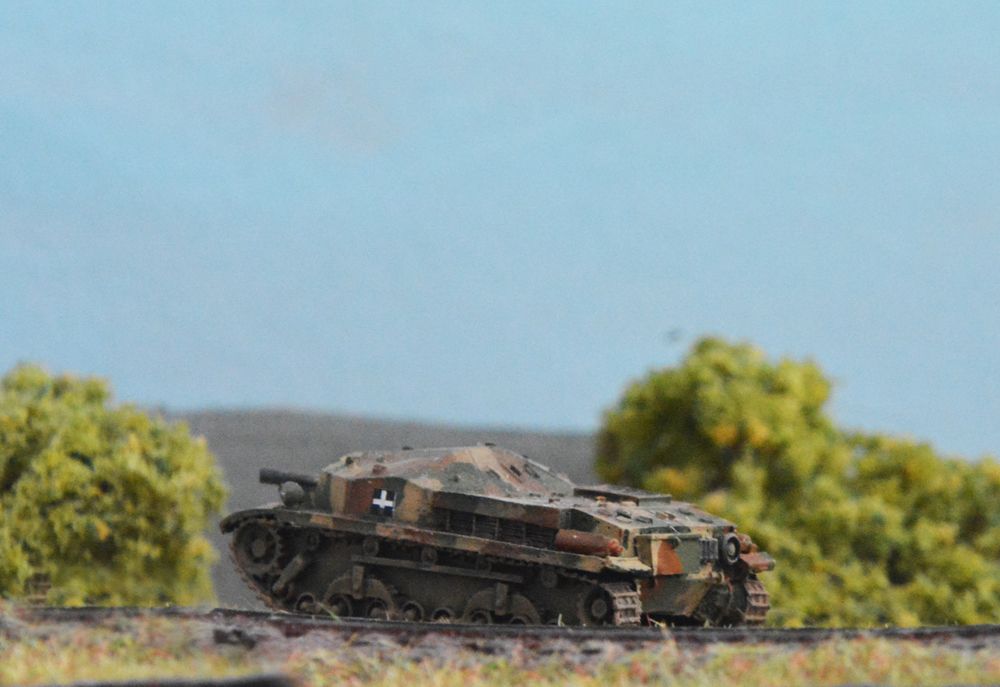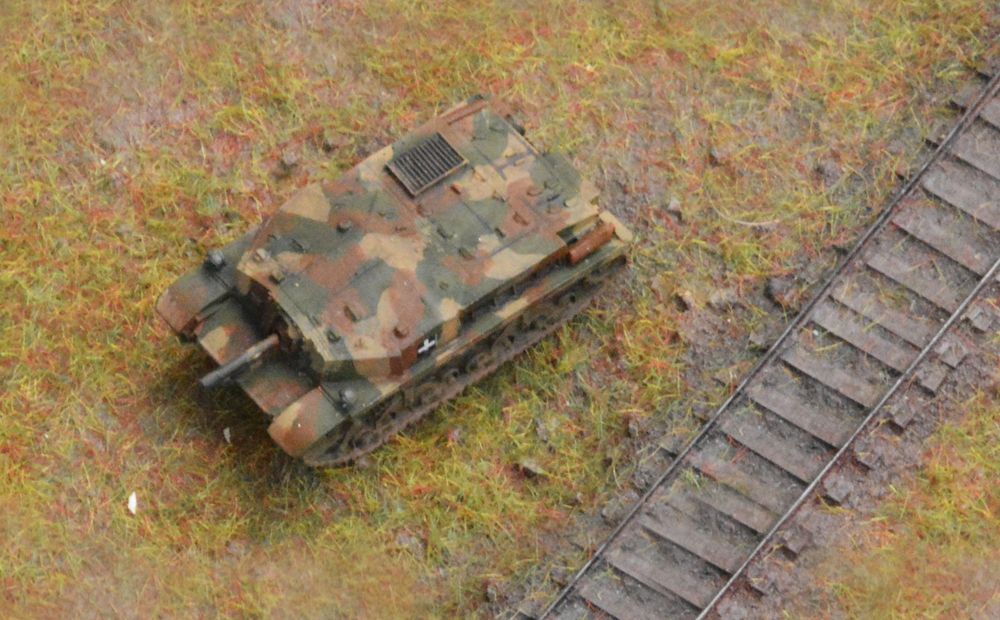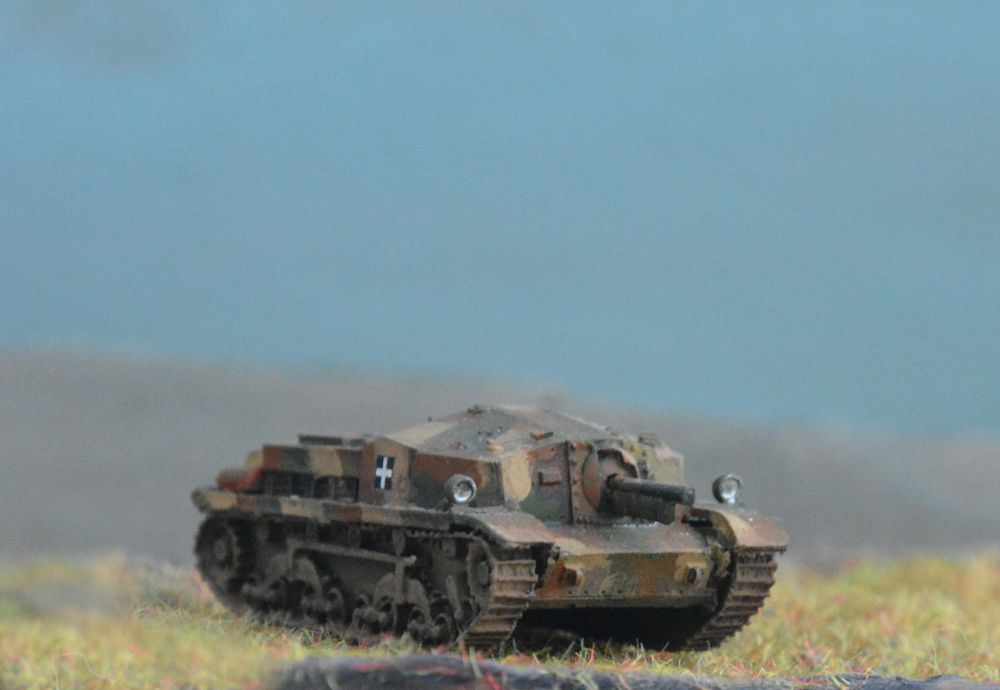 43M Turan III
:
only one built: this was a Turan armed with the same 75mm gun mounted on late Pz.IV types. Shapeways again.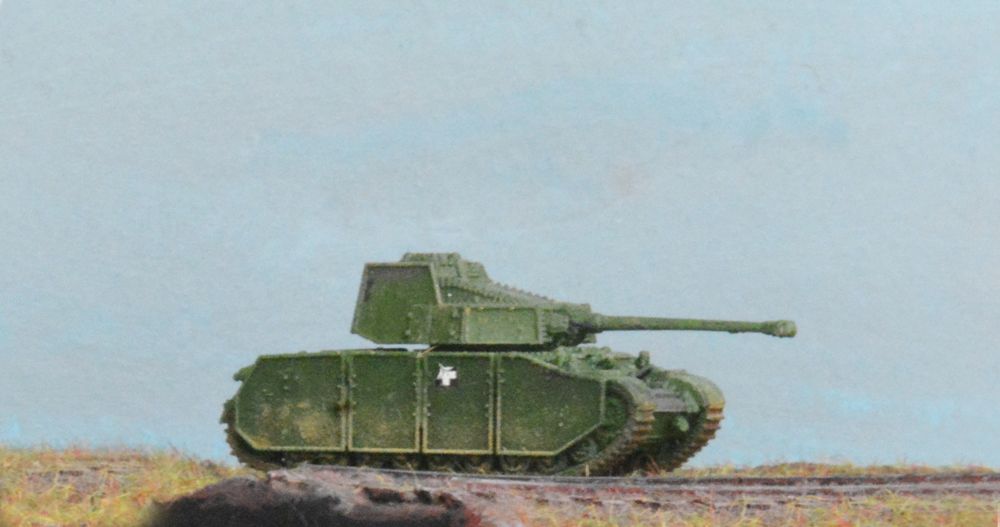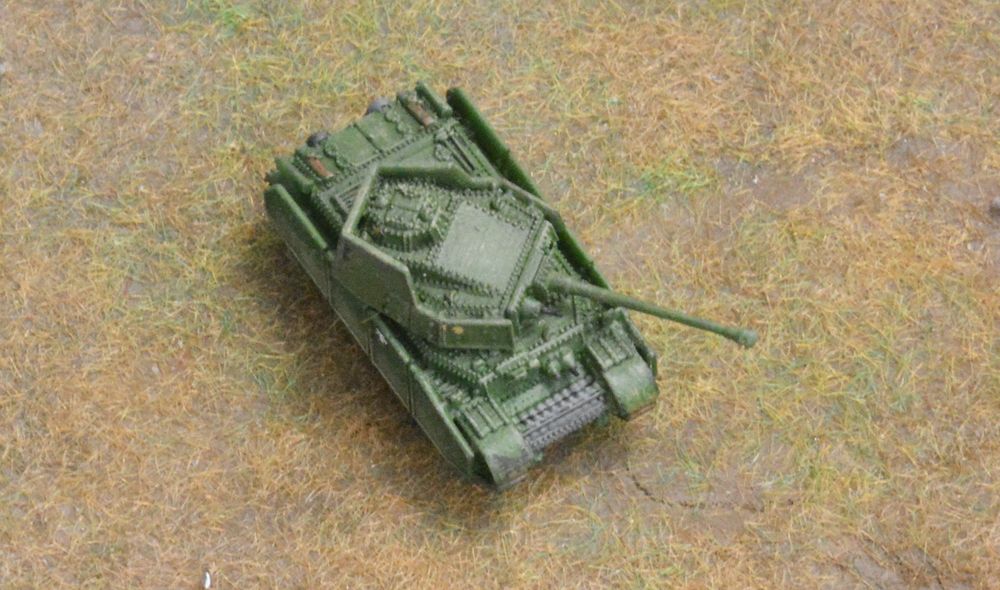 44M TAS
:
this was the Hungarian attempt to locally design an up-to-date tank. The chassis, still without turret, was destroyed in a bombardment in 1944. When I got this model from Kampfflieger I was surprised by its size: it is as big as a King Tiger, so I tough it had to be too big for 1/144. After checking dimensional data the model seems correctly sized: better armored and larger than a Panther yet lighter (I'm not an engineer but this doesn't sound right), according to what is reported on Wikipedia and few other sites: likely they all get info from one source (this is not a world known tank after all) that may be incorrect.
I've copied this non standard camouflage scheme from a 1/35 kit box cover because it just looks good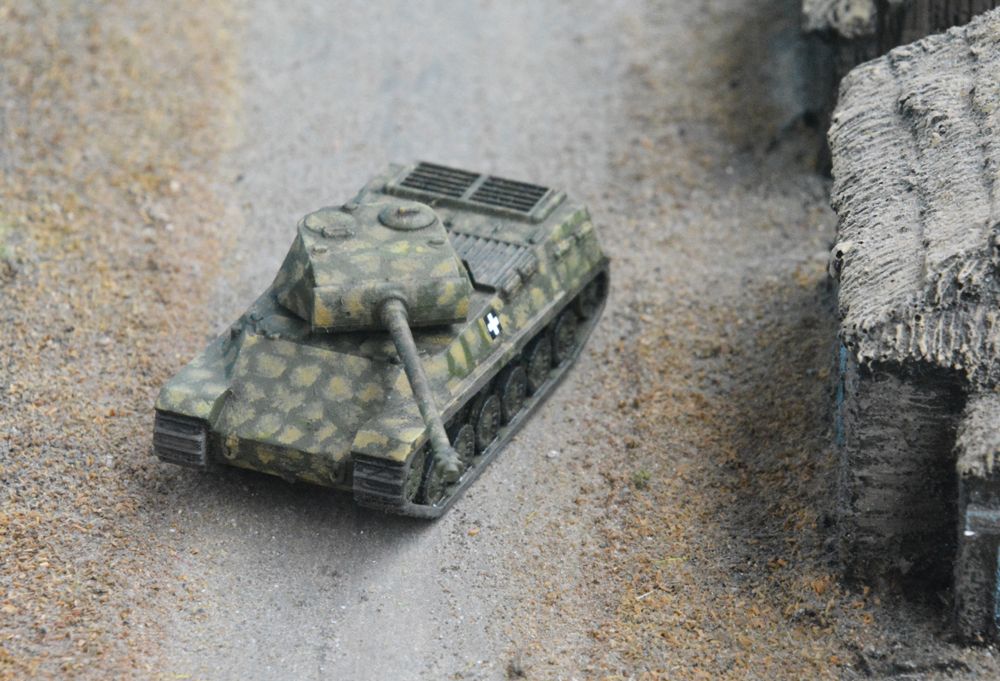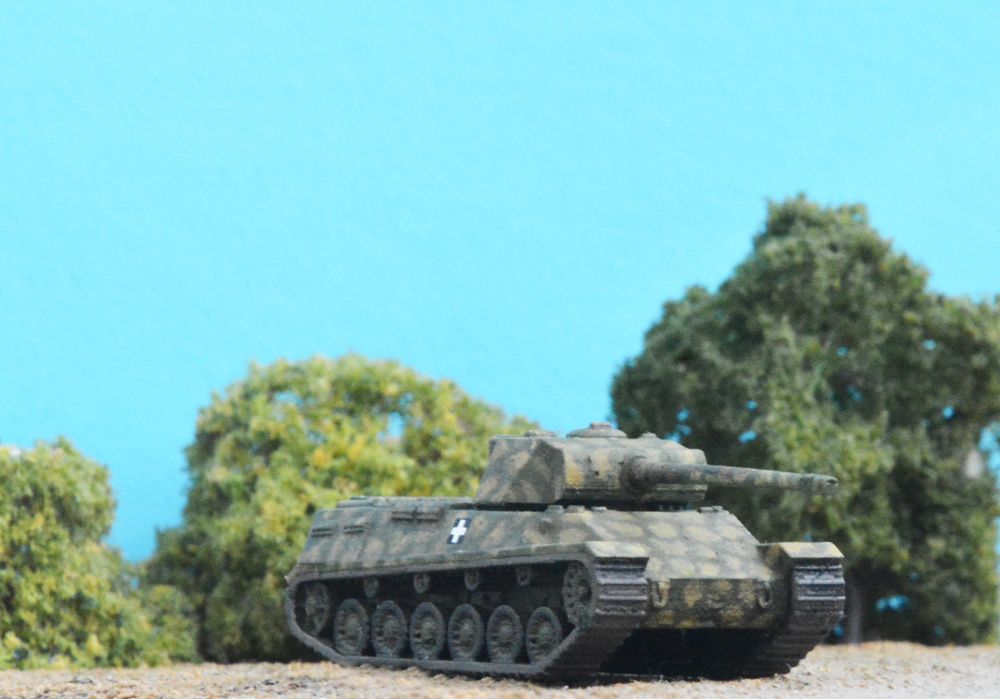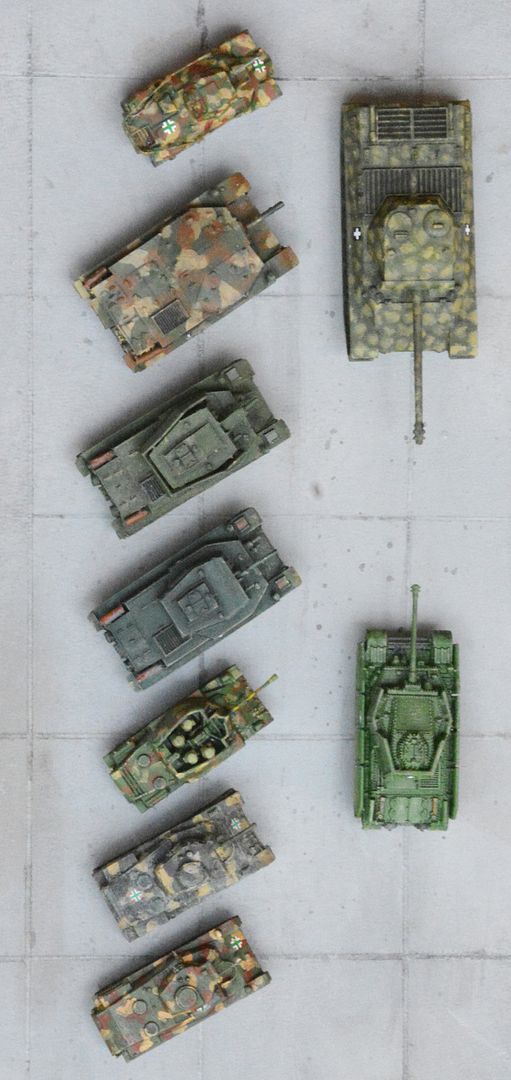 More Hungarian AFVs in 1/144?

Shapeways also offers a Zrinyi II (armed with the same 75mm gun as Turan III, and a TAS Rohamloveg (if TAS looks like a Panther a Rohamloveg would have looked like a Jagdpanther), both remained on the drawing board.
Panzer depot also offers a 'Marder' Toldi (another project, this one did't go in production because it was too late but simply because it was not adopted).